I made an ATC yesterday, but I'm not that happy with it, so I thought I'd re-post an older one that I love.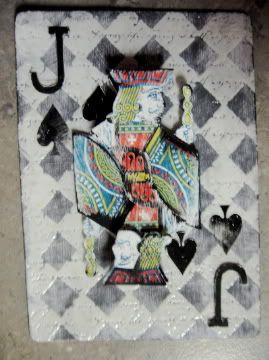 I got the idea for these ATCs when I was getting ready for a swap and found a 6-pack of decks of cards for $1 at Target, and noticed they were just the right size for ATCs. I separated each of the face cards into baggies, so I had 6 of the same card per baggie.
On the bottom layer, I stamped the harlequin diamond design (by Fancy Pants Designs) and embossed it with clear embossing powder, then sponged black over the top so that it went into the "writing" in the embossed diamonds and into the non-embossed spaces. To be honest, I can't for the life of me remember if I sanded the base layer first - I think I probably did, to get the slick coating off the cards so the ink could take hold.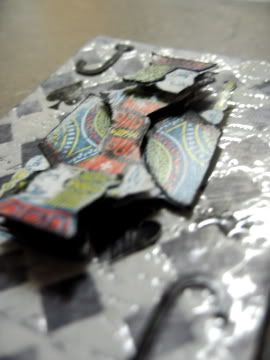 Then I cut out all of the different pieces and layered them in order with dimensionals, so they stood up a bit. It's like paper-pieceing with a punch. Really, for these, I didn't do any original artwork, and hardly any stamping, but came up with something really original and neat-looking.